Virtual Innovative Learning Laboratories for Global Engineering Education

Virtual Innovative Learning Laboratories for Global Engineering Education
Call: HORIZON-MSCA-2021-SE-01
(MSCA Staff Exchanges 2021)
Topic: HORIZON-MSCA-2021-SE-01-01 Type of Action: HORIZON-TMA-MSCA-SE
Proposal number: 101086464
Proposal acronym: VILLAGE
Duration in months: 48
Virtual Innovative Learning Laboratories for Global Engineering Education – VILLAGE is to re-examine the post-pandemic teaching processes and needs of engineering instructors and students for laboratory practice in a multidimensional, multicultural and multidisciplinary context, and to determine roadmaps for new instructional design models in line with the opinions of the stakeholders, to create effective and sustainable instructional models, while developing a pilot virtual lab and its learning materials to test the proposed model.
VILLAGE is a joint research and innovation (R&I) project in the context of generating a sustainable learning model for laboratory engineering education considering the new normal and the needs of the instructors with the exchange of staff within partnerships of universities, research infrastructures and SMEs in Europe and beyond, which aims to strengthen inter-sectoral and international collaboration.
In general, the existence of some virtual laboratories for engineering education is known, and some variables are effectively used. Beyond the state of the art, this project aims not only to design another virtual lab, but to design a sustainable model for engineering laboratories education based on a multidimensional, multicultural and multidisciplinary analysis.
EMODA IN VILLAGE
Designing an open-access and sustainable virtual engineering pilot lab.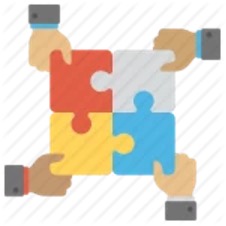 9 participants from 7 countries in Europe